Welcome!!
Hello! I am Daniel, Chris and Sharon's son. I am 13 years old and I have taken over this wonderful job from my sister Tyler who is now 25!! I have grown up with the Beans my whole life and I still love them! I am going to tell you, not necessarily all about the Beans, but I am going to tell you all about the wonderful and interesting people who make bath time MAGICAL!!
Chris and Sharon
The owners are two really awesome people, not just at the factory, but also at home. Their names are, (which I am sure you already know), Chris and Sharon. Chris does all the banking, he deals with all the overseas clients, he runs the factory, pays the bills and makes sure everything is ship shape. Sharon does all the designing of those cute little shapes and all the promotional jobs. The Bean business was my parents dream job and they have never given up on it even when times were really hard, so basically they are hard workers!!
Sean
Sean is the office administrator. He is in charge of ordering all the ingredients to make the fantastic Sprudels and Beans. He also makes sure Chris pays the bills on time. He is also our heroic G.M.P. Officer. That means he has to make sure everything runs smoothly and at a very tip-top standard. The only thing I do not like about this job is that it involves a lot of paper work which stinks!!!!
Gerry
Gerry prepares the wages so that Chris can pay everybody. She also does the minutes at the meetings. Gerry is an extremely jolly person and is great fun to have around.
Ntuthu and Bongi
Ntuthu (we call her Turbotoots!) and Bongi are the people who cut animal shapes out of foam to put them into capsules to make the Beans. Turbotoots has worked at the Bean factory for a long long time, so long that her daughter now works here!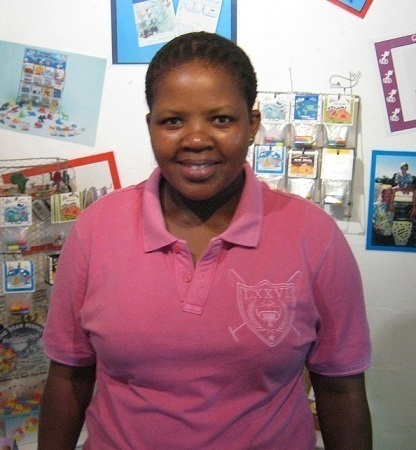 Zintle
Zintle does all the dyeing that makes the wonderful little creatures so colourful! All by herself – trust me that's a lot of dyeing.
Gcobisa
As you may know we put the Beans into different types of packaging like the Africas, Hearts, Packets and my favourite the BUMPER JARS which is done by Gcobisa. Gcobisa also makes sure that Village Work Centre has the right foam shapes and enough capsules! (It would be a disaster if she didn't work for us).
Roezona
There are loads of jobs Roezona has to do! She loads the Sprudels, she is in charge of packaging Sprudels!!!! She also does stock take every single month, that is when somebody makes sure that everything is balanced equally. Whoa she is a very very busy lady!!
Annie and Nopasika
There are a lot of Beans to be packaged and Annie and Nopasika do all of it by hand and all of it by themselves!!! Isn't that amazing!! They pack all the Beans into loose packets, Africas and Hearts!! Remember what I said about Ntuthu's daughter working at the factory? Well, I wasn't bluffing, Nopasika is Ntuthu's daughter!!
Busisiwe
Busisiwe has the hard job of making sure everyone who has ordered Beans gets the right Beans in a parcel!! She does all the postal and mail orders.
Frikkie
Somebody has to have the difficult job of parcelling up all the overseas orders and that person is Frikkie!!! Frikkie is a very hard worker and works incredibly hard; thoroughly and slowly!!! He is also our website guy as he keeps the website up to date!! Frikkie is always on Facebook but don't worry it's not his Facebook page! It's the Bean People's Facebook page!! He puts all the latest news and pictures on the Facebook page!
Sindi
Sindi is the Sprudel supervisor and she makes sure everybody in the Sprudel department is doing the right thing. This is very hard as there are about 18 people in the Sprudel department but she manages to do a great job! Big thumbs up to you Sindi!!
Sprudel Ladies
These are the wonderful people who make those colourful Sprudels that colour and fizz in your bath. They make the Sprudels by mixing secret ingredients together. The latest Sprudels have such a nice smell. In the middle of the Sprudel there is a magical little bean which turns into a bath foam toy. When the Sprudel ladies are in a good mood they like to sing while they are working, so for other people who work at the factory coming to work is like coming to see a choir.
Debbie and Rozelle
Debbie and Rozelle are the sale reps and have to deal with all the wonderful shops and shopkeepers who stock our Beans. Debbie goes to all the shops in Cape Town to see if they have enough stock. If they don't Debbie gives them a mean look and tells them to buy more, but don't get me wrong Debbie is one of the happiest people I know. Rozelle has the tough job of driving through the hectic traffic of Jo-burg to get to shops to see if they have enough stock. The only difference between Debbie and Rozelle's jobs is that one works in Cape Town and the other works in Jo-burg!!!
Village Work Centre
Village Work Centre is a protected work centre for cerebral palsied people and does lots of loading for the Bean People!! They are the most happiest and joyful people you will ever meet. Whenever we give them boxes of loading to do they always smile and say thank you very much for the work!! Village Work Centre have bean helping the Bean Business right from the start!! So they have been helping for 25 years and we are so grateful for that!!!
Joyce Chevalier
Joyce Chevalier is also a protected work centre – for the mentally handicapped and they do loads of picking, which is extremely hard as you have to pick out the little tiny eyes and other little things out of the foam. The people who work at Joyce Chevalier are very happy and they laugh a lot as they are always in a very good mood!!